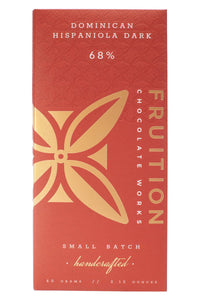 A lightly roasted dark chocolate.  Balanced, bright, lingering.
Handcrafted from Dominican Cacao
   wt. 2.11oz (60g)
Ingredients: Organic Cocoa Beans, Organic Cane Sugar, Cocoa Butter, Whole Vanilla Beans
Allergy info:  May contain traces of nuts and milk.
Winner: 1st Place Best Origin Bar at 2015 Northwest Chocolate Festival
Cacao proudly sourced from Uncommon Cacao:
OKO Caribe (Organic and Direct Trade) has perfected the art of working with small farmers in the San Francisco de Macoris region, Duarte province of the Dominican Republic. Business owners Gualberto and Adriano consistently deliver this high quality cacao, with deep chocolate and red fruit notes. They have personal relationships with all farmers, offering microfinance loans for cacao-related expenses, as well as personal loans for family emergencies or other community needs.