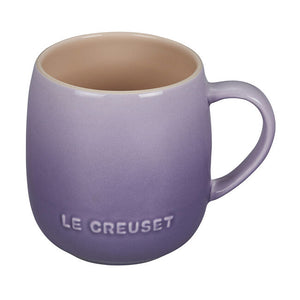 For coffee, tea, hot chocolate and even single servings of soup and dessert, the Heritage Mug has a versatile rounded design that perfectly complements both traditional and modern kitchens. Crafted from premium stoneware in our irresistible colors, the mugs are part of our dinnerware collection and finished with a vibrant glaze which is easy to clean, dishwasher-safe, and resistant to chips, scratches and stains. Designed to stay beautiful with daily use, Le Creuset's dinnerware brings elegant style to every table and occasion.
Features
Premium stoneware is designed for everyday use
Colorful glaze is nonporous, non-reactive and resistant to chips, scratches and stains
Virtually nonstick glazed surface easily releases food for quick clean-up, and resists cracking and crazing
Superior heat retention keeps food warm or cold for serving
Safe for freezer, oven, microwave, broiler, dishwasher and metal utensils
Capacity-13 fl. oz.
Material-Stoneware
Heat Source-Broiler, Oven & Microwave
Cleaning-Dishwasher-Safe
Warranty-10 Year