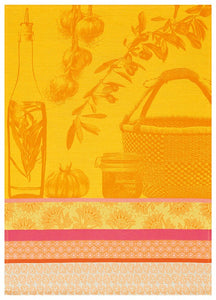 DESCRIPTION
Friezes of Indian motifs, tapenade, garlic and tomatoes. A true regional postcard!
To limit the shrinkage of cotton in the wash, Le Jacquard Français applies the specific Irretrex treatment which minimizes the reactions of natural cotton fibers in the wash. Our cotton remains stable over time and our fabrics retain their proportions over time to give you complete satisfaction.
MATERIAL
100% cotton. Our products are made of long staple combed cotton to guarantee superior quality to our customers. The longest fibers produce a soft touch, perfectly smooth and resistant linen; the fineness of the combed yarns brings an incomparable brightness and precision to our designs.
GRAMMAGE: 205 g/m²
Because having confidence in our products is essential, Le Jacquard Français manufactures products with the OEKO-TEX STANDARD 100 label ( CQ 1190/1, IFTH). Created in 1992, this independent international label guarantees a limited and strictly controlled use of substances that are hazardous to health and the environment during the manufacture of textiles at all stages of its transformation.
MAINTENANCE
Normal washing at a maximum temperature of 60 °C / 140 °F. Do not bleach. Do not tumble dry. Iron at a maximum soleplate temperature of 200°C / 392°F (3 dots). No professional dry cleaning ! Normal professional wet cleaning.