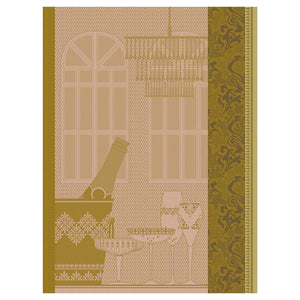 Channel the spirit of a top hotel bar with the Ambiance collection. Tea towels with cocktail or champagne motifs bring a refined, decorative touCch to your aperitifs and culinary creations. Available in understated colours, you'll fall in love with the modernity and elegance of their lines. Our 100% combed cotton tea towels are woven in high-quality fibre, guaranteeing a durable product whose colour will not wash out.
Size 24"x 31"
MATERIAL
100% cotton. Our products are made of 100% long staple combed cotton to guarantee superior quality to our customers. The longest fibers produce a soft touch, perfectly smooth and resistant linen; the fineness of the combed yarns brings an incomparable brightness and precision to our designs.
Because having confidence in our products is essential, Le Jacquard Français manufactures products with the OEKO-TEX STANDARD 100 label ( CQ 1190/1, IFTH). Created in 1992, this independent international label guarantees a limited and strictly controlled use of substances that are hazardous to health and the environment during the manufacture of textiles at all stages of its transformation.