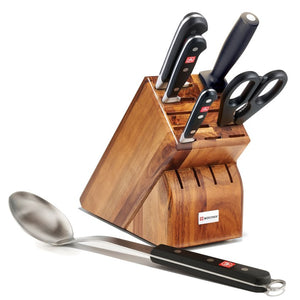 Crafted in the renowned cutlery center of Solingen, Germany, the Wüsthof Classic knives in this set have specially formulated high-carbon-steel blades that hold a keen edge. Full tangs increase balance, while the triple-riveted polypropylene handles ensure a comfortable grip. This six-piece knife set includes a bonus Wüsthof cook's spoon as our gift to you.
Wüsthof has introduced a new logo for their cutlery. Please note that the logo on your knives may differ slightly from images shown here.
Each knife is precision forged from a single piece of sturdy high-carbon steel that resists stains and corrosion.
Wüsthof's Precision Edge Technology (PEtec) ensures a 20% sharper blade with twice the edge retention.
Full tangs are triple riveted to the handles for exceptional durability and control.
Durable handles are contoured for a comfortable grip.
Shears are stainless steel. 
Knife block available in Maple, Walnut, Acacia, Cherry, Black or Beech hardwood.
6-Piece Set includes:
3 1/2" paring knife
8" chef's knife
8" bread knife
9" honing steel
Pull-apart shears
15-slot storage block
Bonus gift: 8" stainless-steel Wüsthof cook's spoon
Please note: Storage block is counted as an individual piece.
3 1/2" paring knife: 3 1/2"-long blade; 4"-long handle; 2.4 oz.
8" chef's knife: 8"-long blade; 4 1/2"-long handle; 9.6 oz.
8" bread knife: 8"-long blade; 4 1/2"-long handle; 4.8 oz.
9" honing steel: 9"-long rod; 4 1/2"-long handle; 6.4 oz.
Shears: 8 1/2" long; 4 oz.
15-slot storage block: 8 1/2" x 5 1/4" x 11" high.

Cook's spoon: 14" long.
It is not advisable to use any knife but a meat cleaver to cut through bone, as other blades can be easily damaged.
Care
Hand-wash with warm water and a mild detergent. Rinse and dry immediately.
Maintain the knife's cutting edge by regularly using a honing steel.
Sharpen as needed. With regular use and honing, your knife should not need sharpening more than once or twice a year.
Sharpen knife at home using a whetstone or knife sharpener, or have it sharpened by a professional.
Store knife in a safe place to protect its edge and prevent injury.