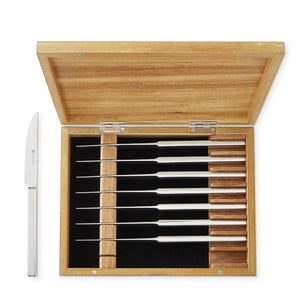 Since 1814, Wüsthof of Germany has been designing and producing some of the world's finest cutlery. Now under its seventh generation of family ownership, the company continues to create knives prized for their long-lasting precision blades.

Wüsthof has introduced a new logo for their cutlery. Please note that the logo on your knives may differ slightly from images shown here.
Set includes eight 4 1/2" steak knives.
Each knife is crafted from 18/10 stainless steel.
Stainless-steel handles are impervious to warping or absorbing moisture.
Sharp serrated edges are designed to cut easily through thick steaks without tearing.
Set includes elegant storage box.
4 1/2"-long blade; 4 3/4"-long handle; 3.5 oz.
It is not advisable to use any knife but a meat cleaver to cut through bone, as other blades can be easily damaged.
Care
Hand-wash with warm water and a mild detergent. Rinse and dry immediately.